Things You'll Need
0.080-inch replacement line

Rag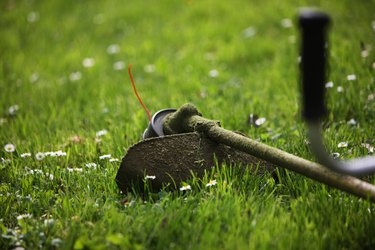 When your Poulan Pro Link PP330 runs out of line, buying a pre-wound spool isn't your only option. This trimmer and edger model can be rewound using bulk replacement line, giving you significant savings over the life of your trimmer. The PP330 requires replacement line that is 0.080 inches in diameter. Although Poulan recommends using only its Poulan brand replacement line, any similar-sized trimmer line can do the job.
Step 1
Shut down the PP330's engine by switching the ignition switch into the "Off" setting and disconnect the spark plug. Place the butt of the PP330's engine onto a flat piece of ground. Hold the shaft and head steady in the crook of your arm.
Step 2
Grab and pinch the tabs on the side of the trimmer head in. Lift the top cover free from the head. Take the spool out of the head. Pull any remaining line off the spool. Wipe the spool, cover and inside of the head with the rag, removing all debris and weeds.
Step 3
Cut off approximately 25 feet of 0.080-inch replacement line. Pinch the spool in between your thumb and forefinger. Bend the 25-foot section of line at its midpoint. Push the bent loop into the slot on the spool until it snaps in place. Set your thumb in between the two halves of line to keep them separated during winding.
Step 4
Wrap the lines around the spool in a clockwise direction; keep both lines tight and use only even, parallel rows. Push the remaining 6 inches of line into the guide slots on the upper side of the spool. Turn the spool upside down.
Step 5
Place the spool into the head cover. Thread each end of line through the exit holes on the cover. Set the spool and cover down against the head. Push the cover down until it clicks. Reconnect the spark plug, and your restrung trimmer is set to go.
Warning
Always wear gloves, protective clothing and safety goggles whenever working with lawn and garden equipment.