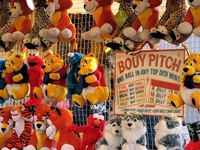 The key to a successful fundraiser is soliciting materials and time from local businesses and community residents in order to keep overhead costs low. Ask for volunteers to help in the planning stages, during the event and with clean-up. Send flyers to area businesses asking for items to use at the carnival or to auction or raffle off. Connect with an organization of local activists or civic-minded individuals to ask for help, resources and ideas.
Things You'll Need
Donated materials and goods
Seek Donations: Time, Materials and the Location
Ask a local school, church or library. They may donate a space or charge a minimal fee.

Advertise locally for volunteers.
Ask businesses for leftover materials for craft projects or to donate the cost of renting a "bouncy house" or to sponsor another activity.
Solicit items for pot luck food or contact a local restaurant to provide a spaghetti dinner.
Work closely with members of the organization raising funds
Arts and Crafts Station
Set up an arts and crafts station with projects for kids and adults of all ages.

Ask for volunteers from a local high school arts class to guide carnival-goers through different projects and solicit materials from local businesses and neighborhood residents.
Look for materials that would otherwise end up in a landfill and lower the carbon footprint of the event.
Cake Walk and Bake Sale
Sell baked goods, snacks and beverages.

Organize a cake or cupcake walk.
Games
Arrange a carnival boardwalk complete with carnival games like ring toss, balloon darts, beanbag toss, bowling and three-legged races,.

Sell tickets for the games at a reasonable price and offer inexpensive prizes bought in bulk or donated.
Consider other games like bobbing for apples, croquet or mini-golf
Self-Expression & Entertainment
Ask for volunteers from a local beauty school or art school to facilitate this activity.

Set up a tent wherein guests can adorn their cheeks, bedazzle their nails or temporarily ink their limbs.
Ask local clowns, jugglers, musicians, poets, comedians, theatre troupes, dancers, mimes, balloon artists and other talented performers to donate their time for a good cause.
Raise Funds
Solicit businesses and artisans for items.

Raffle off a donated prize.
Conduct a silent auction or host a live auction.
Fun Photo Back Drops & Costumes
Set-up a photo shoot and charge a small fee for the finished product.
Create painted cardboard cut-outs for guests to pose with.
Alternatively, set-up a background and add costumes for carnival-goers to wear.