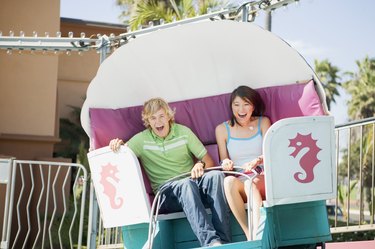 Communities get together for block parties, home owners association meetings and fundraisers. With the proper planning, a community can stretch the conventional meetings to be profitable and fun experiences for the whole neighborhood. Encourage participation from neighbors for a better turnout to your events.
International Festivals
Chances are, if you live in an American city, you have neighbors with a range of ethnic backgrounds. Celebrate the diversity of your community with an international festival. Get a city permit to block off one neighborhood street for the festival. Allow vendors to set up along a neighborhood street showcasing crafts, foods and clothing from their native cultures. Event entertainment can incorporate the theme with musicians and performers from a variety of cultures.
Community Garage Sale
A community garage sale is perfect for spring cleaning. Get the community together to clear out garages, attics, basements and storage units where old items have collected but have no further use. This could be a great way to raise money for homeowners association priorities, a local charity or as extra income for the homeowners. Remember to have each homeowner label his or her goods so sales can be tracked and profits distributed accordingly.
Carnival
Rent carnival equipment from a party rental company. A popcorn and cotton candy machine, dunking tank, helium tank for balloons and more can create an instant carnival in your community. Assign someone to do face painting and make balloon animals. If you have a neighbor who knows a few card tricks, designate him or her as the traveling magician. Any other unusual talents may be showcased as well to add color to your event.