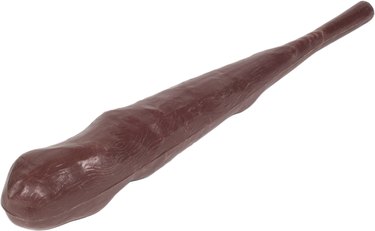 The animated television series "The Flintstones" was about a family living a modern suburban life in the Stone Age. If you have a child who enjoys watching the show, consider a Flintstones-themed birthday party for him and his friends. From the invitations to the games, incorporate characters such as Pebbles, Dino, Fred and Wilma, into the excitement to create a memorable Flintstones party for your child.
Invitations
Print pictures of Flintstones characters to create basic invitations. Write the party details on the back of each picture and mail the invitations to your guests. Alternatively, cut bone or club shapes from ivory-colored construction paper on which to write the party details. Write "Yabba Dabba Doo" on each invitation. Decorate the invitations with caveman or Flintstones-themed stickers. For added decoration, attach a small box of candy bones to each hand-delivered invitation.
Decorations
Decorate the party area with black and gray decorations. Use black and gray steamers, balloons, plates, napkins, tablecloths and plastic silverware. Scatter items such as plastic toy clubs and bones around the party area. Hang posters and pictures of Flintstones characters on the walls. Use a large box to make a cave for the children. The children can crawl through the cave and use crayons to sign their names inside. Play "Flintstones" television shows for the children to watch throughout the party.
Arrival Activities
As guests arrive, give each person a Flintstones coloring page to color while the other guests show up to the party. Dress up your party guests. Cut jagged edges on black, orange and brown material. Tie a piece of material over one shoulder of each of the party guests. Have the children sit at a table and decorate bone-shaped cookies. They can use sprinkles, frosting and icing pens to decorate the cookies. Help each child make his own Bam-Bam club by dipping a large pretzel rod into melted chocolate. The children may decorate them with sprinkles.
Games
Prepare a homemade bowling course called "Fred Flintstone's Bowling Alley." Paint empty 2-liter soda bottles to resemble bowling pins. Have the children try to knock down as many pins as they can by rolling soccer balls or volleyballs at the pins. Divide the players into teams for a "Bedrock Car Race." Cut leg holes out of large boxes and give one box to each team. The children must put their legs in the holes and race through an obstacle course of cones. The first team to finish the race wins the game.