Things You'll Need
Inkscape software (free download)

Sure Cuts A Lot software (free trial or purchased)

Cricut adhesive mat

Paper, vinyl or fun foam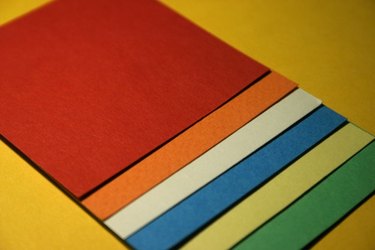 Cricut cutting machines work well for making many craft projects, but the cartridges can be expensive. The Cricut machine works without a cartridge if it is attached to a computer with the correct software. as of November 2010, one software program makes the Cricut cartridge free. The program is "Sure Cuts A Lot," and is available for PC or Mac users. The software costs between $65 to $120 depending on which package you want and lets you design and print any design on the Cricut.
Getting Inkscape and Creating SVG Files
Step 1
Download Inkscape (see Resources). It is a free program that is available for everyone. Open the program on your computer.
Step 2
Open an image or design an image using the drawing tools in Inkscape. The program has all of the basic drawing and painting tools, similar to Adobe Photoshop or Corel Paint.
Step 3
Click "File" on the menu bar. Click "Path," and click "Trace Bitmap." Hit the "Update" tab on the screen, and click "OK." There are two images on the screen that look alike.
Step 4
Move the cursor on the top image. Click the mouse, and hold down the button on the mouse. Move the image to the right side.
Step 5
Put the cursor on the bottom image, and right-click on the image. Scroll down to delete, and click on it. The bottom image disappears. The top image is a clearer image, so you keep it.
Step 6
Go to "File," click it, and scroll down to "Save As." Click on it, choose the preferred location for the file and click "Save." This saves the image as an SVG file.
Cutting Without a Cartridge
Step 1
Go to http://www.cricut.com/CDs/, and download "Provo Craft Design Studio Software." You need this software for updating the computer so it works with the Cricut. This is the only time you use "Provo Craft Design Studio Software."
Step 2
Download the "Sure Cuts A Lot" software package that you prefer. There are three links in the resources for download locations, and most offer a free trial period. Once the software is downloaded, open it on the computer.
Step 3
Attach the paper, vinyl or fun foam to the Cricut mat by pressing it onto the mat. The mat has an adhesive surface that holds items in place for cutting.
Step 4
Click "File," and click "Import SVG." Look for the image you saved in Inkscape, and click on it. Then click "Open."
Step 5
Move the cursor over the bottom right circle at the corner of the image, and click on it. Continue holding the mouse button down, and pull or push the image until it is the desired size.
Step 6
Find the "Cut" tab on over the image, and click it. The Cricut machine cuts the image.