Things You'll Need
Cricut Design Studio software (trial software)

Adobe Illustrator or Inkscape software

Sure Cuts A Lot software

Cricut Mat

Paper, foam or vinyl

Computer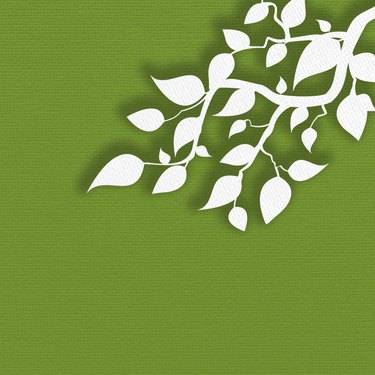 One of the advantages of using a Cricut machine is that you can design your own shapes to cut out. Instead of relying on standard designs that come with the machine, you can make an image in a vector graphics program, such as "Adobe Illustrator" or "Inkscape," and convert it to a format the Cricut recognizes. Once you have converted an image, it can be resized or manipulated to further customize the design for any project you can dream up.
Creating Your Image
Step 1
Create a design using Adobe Illustrator or Inkscape. If you don't have Adobe Illustrator, download Inkscape for free. Open a new file, and use the drawing tools to the design.
Step 2
Click "File," "Path," and then "Trace Bitmap." Click on the "Update" button on the screen, and then click "OK." You see a second identical image.
Step 3
Put the mouse on the top image, and click on it. Hold the mouse button down, and pull the top image off of the bottom image. The top image is clearer.
Step 4
Move the mouse on top of the bottom image. Click on the mouse, and then hit the delete button on the computer keyboard. It removes the unwanted extra image.
Step 5
Save your design by clicking "File," and then click "Save As." Look at the location section on the left side of the box, and choose the location for saving images. Click the "Save" button on the computer screen on the bottom left side.
Using Sure Cuts A Lot
Step 1
Download the trial version of "Provo Craft Design Studio Software." The program will update the computer's working system.
Step 2
Go to the "Sure Cuts A Lot" website, and download the software. The software costs $60 to $120 depending on the package you buy.
Step 3
Load the software on the computer. Open the software.
Step 4
Put the paper, foam or other material you are cutting on the Cricut mat. Make sure it is stuck in place. Load the mat into the Cricut machine.
Step 5
Go to "File," and click "Import SVG." Find the image, click on it. Click "Open."
Step 6
Click on one of the circles at the corner of the image, and pull it until it is the size you want. Push the image the other way if you want it smaller.
Step 7
Go to the cut button above the image. It has a pair of scissors on the tab. Click on it, and the image cuts out.