Things You'll Need
Microsoft Word

Digital images

Heavy paper or cardstock

Printer

Gluestick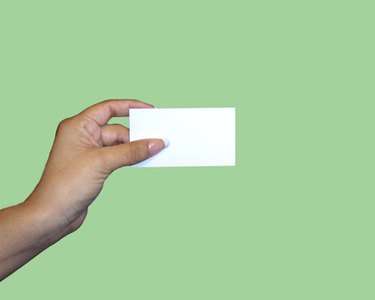 Microsoft Word features drawing tools that can be used to create trading cards. Make your own trading cards to illustrate facts, design your own sports cards, or memorize information. Trading cards make great teaching tools and can be used for play or learning.
Step 1
In a new blank document in Microsoft Word, click "View," "Toolbars" and the "Drawing" toolbar in the menu. Click the "Rectangle" icon.
Step 2
Click and drag on the document to create a rectangle shape. Double click inside the rectangle for the "Format AutoShape" dialog box. Choose the "Size" tab and change the height to 3.5 inches and the width to 2.5 inches. Click "OK." This will be the front of the trading card. Save the document.
Step 3
Click the "Rectangle" icon on the "Drawing" toolbar and create a second 3.5-by2.5-inch rectangle right next to the first one. This will be the back of the trading card.
Step 4
Insert images into your trading cards. Click "Insert" on the File menu, then "Picture" and "Clip Art." Select the image and double click to insert the image. In the "Layout" tab of the "Format Picture" dialog box, choose your wrapping style and horizontal alignment. In the "Size" tab, resize the image. Click "OK." Add other images as needed for the design you want.
Step 5
Insert text. In the "Drawing" toolbar, click the "Textbox" icon. A rectangular text box will appear on your trading card. Choose the font, size, and style. Type your text. Click "OK". Select the text and drag to the desired location on the trading card.
Step 6
Print and create your trading cards. Once the design is complete, save the document. Load the printer tray with heavy paper or cardstock. Click "File" and "Print" to print the trading cards. Cut out and glue back-to-back.
Tip
You can also use Microsoft Publisher. Select the business card template and change the shape to a vertical business card. Add images and text.