Things You'll Need
Paper

Envelope

Stamp

Fax

Safe's serial number

Owner's manual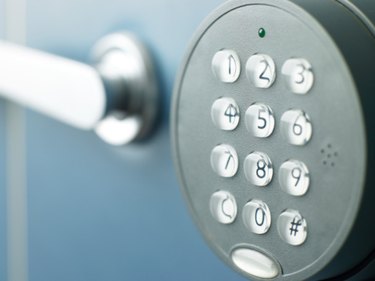 The Sentry Fire-Safe Advance Business Safe-A5848 has a key and an electronic lock. The safe is water-resistant and can hold paper, folders, documents and other valuables. The safe comes with a pre-programmed factory code printed on the front of the owner's manual. Unless you changed the code, this will unlock the safe. If you forgot the code entirely, you can have it reset.
Opening Safe With Combination
Step 1
Locate your user manual that came with the Sentry Safe. On the front of manual, there is a five-digit combination that is unique to your safe. This is the pre-programmed factory code.
Step 2
Enter the five-digit code by pressing the numbers on the front of the electronic keypad. If you entered the code correctly, the light on the front of the safe will turn green.
Step 3
Turn the handle of the safe upward to open the door. You have four seconds after the light comes on to open the safe. If the light turns off before you can open the safe, repeat the steps.
Forget Code
Step 1
Write a letter to the Customer Care team at Sentry Safe. Be sure to include the first and last name of the safe's owner and let the team know you need a new combination as your forgot yours. Be sure the letter includes your address, phone number, the safe's model and serial numbers. Explain in the letter how you want to receive your new combination (mail, email or fax). Be sure to provide your email address or fax number if you want to Sentry to communicate with you this way. The address must be a mailing address, not a P.O. Box.
Step 2
Get the letter notarized. According to Sentry Safe, the name of the notary public must be different than the owner of the safe.
Step 3
Write a check or obtain a money order for $20. Make it payable to Sentry Group. This fee covers research costs. If you are faxing the letter, a customer care representative will contact you within 48 hours to process a credit card payment.
Step 4
Mail or fax the letter to Sentry Safe. The fax number is 585-381-2940. The address is Sentry Group, 900 Linden Avenue, Rochester, NY 14625.
Step 5
You will receive your combination within 48 hours of processing.
Tip
If you have recently bought a Sentry safe, you can register online and store the combination for safekeeping in case you need to retrieve it later. The Web address is www.sentrysafe.com.