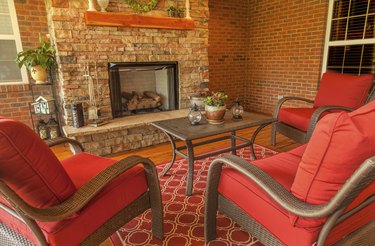 Gas fireplaces are convenient to use. They are less expensive than electric fireplaces and don't make any smoke. Best of all, the only thing you need to do to turn it on is flip a switch; there's no gathering, arranging and trying to light wood. You don't have to keep moving the wood to keep it going, and when you finish, you just need to turn off the switch. Gas and wood fireplaces have one thing in common: People need to take proper safety precautions when using them.
How Do Gas Fireplaces Work?
These fireplaces have dedicated gas supplies that they use for fuel. Electric ignition systems need a separate electrical supply, but some gas fireplaces have pilot flames that work with spark igniters and thermocouples/thermopiles. These light the main burner flames that give you the heat output and flame effects. There will also be faux coals or logs to make things look more realistic, along with a glass front.
Ventless and natural B-vent gas fireplaces also have internal air supplies to feed oxygen to the fire, and direct-vent models have external air supplies for this. Ventless gas fireplaces burn fuel as efficiently as possible so that there is no need for external ventilation. There will be an external vent for waste air with direct vent and natural gas fireplaces. Vented gas fireplaces have combustion/exhaust systems that create safe, efficient heat. They have sealed chambers that draw in outside fresh air, which is used in the combustion process. Then, the gaseous byproducts are channeled to the outside of the building.
Best Practices for Gas Fireplaces
Anyone who has a gas fireplace should understand important safety practices. The first is to have a clearance zone around it to prevent uncontrolled fires. Avoid placing anything flammable, like furniture, paper products or wood, close to the firebox or up against the glass safety barrier. Your model may indicate a specific clearance zone in its manual.
That glass barrier can get extremely hot, so never touch it when the fireplace is in use. Also, be vigilant about keeping children and pets away from your fireplace when it is on and for at least an hour after turning it off. The glass and metal in a fireplace stay hot for quite a while afterward. Think about putting up a safety gate in front and keep the gas fireplace remote hidden and out of reach.
It's also an excellent idea to install smoke detectors and carbon monoxide detectors on every floor of your house, checking them a few times a year to make sure that they are working. If your gas fireplace seems out of sorts, schedule a service call as soon as possible. Signs of problems include a rotten egg odor, the flames looking different, or if the fireplace won't turn on or isn't heating or lighting up. Even if there is no noticeable problem, experts recommend setting up a yearly inspection to correct any safety issues and extend the life of your fireplace.
Are Gas Fireplace Fumes Toxic?
Gas fireplaces can be a potential source of carbon monoxide poisoning. When fossil fuels completely combust, they produce carbon dioxide, but when gas fireplaces are improperly ventilated or maintained, the combustion can be incomplete. This incomplete combustion creates carbon monoxide with the accompanying risk of carbon monoxide poisoning. Symptoms of this sort of poisoning include dizziness, headache, nausea, shortness of breath, chest pain and unconsciousness. Prolonged exposure to these conditions can lead to severe side effects, such as vomiting, mental confusion, a loss of muscular coordination and even death.
To prevent this from happening, follow the safety guidelines and always be on the alert for these symptoms. You can also open the gas fireplace doors to ensure that nothing smells off and clean up any dirt, dust or debris at the base. A whistling or hissing sound coming from the fireplace is another indication that something is wrong.