The Dyson DC18 is an all-floor vacuum cleaner that will help keep your floors free from excess bacteria, allergens and other air and floor contaminants. Regularly vacuuming your floors will help keep them looking newer and is especially important for homes with small children or pets that may dirty floors more quickly. Your cleaning schedule can be disturbed when your Dyson vacuum stops working properly or stops working altogether. Luckily, you can clean the machine on your own. Be aware that some of these steps will void your warranty if it is still in effect.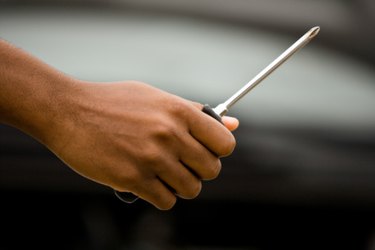 Things You'll Need
Scissors

Screwdriver

Long-Handled Brush

Water
Unblocking the Brush Bar
Step 1
Turn off the machine, unplug it and let it cool completely.
Step 2
Twist the yellow sole plate fastener screws on the foot of the machine to the unlocked position. Remove the sole plate.
Step 3
Twist the end caps and remove them. Set them aside. The end caps are the two caps on either end of the brush bar that keep it in place.
Step 4
Remove the brush bar and remove any lint, hairs or threads that have wrapped around it. This blockage may prevent the brush bar from working. Remove any blockages from the brush bar housing. Snip hair or strings with a pair of scissors. Be careful not to scratch the brush bar.
Step 5
Snap the brush bar back into place and twist the end caps back on. Replace the sole plate and twist the sole plate fastener screw to the locked position.
Unblocking the Hoses
Step 1
Turn off the machine and unplug it.
Step 2
Push back the yellow wand cap to remove the wand from the machine.
Step 3
Press the red release button on the base of the wand to remove the wand from the hose.
Step 4
Check the hose for blockages and remove any blockages you find with a long-handled brush.
Step 5
Replace the wand on the end of the hose and put the wand and hose back in the machine.
Cleaning the Filter
Step 1
Turn off the machine and unplug it.
Step 2
Remove the dirt canister by grasping the handle and pressing the release tab.
Step 3
Remove the canister filter lid by pressing the blue release tab.
Step 4
Remove the filter and filter ring. Pull out the filter from the blue filter ring and run it under clear tap water. Rinse out the entire filter and wring it dry.
Step 5
Let the pieces dry completely before putting them back together and replacing them in the canister. Shut the canister top and put the canister back into the machine.