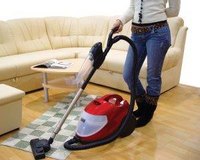 Harsh chemicals in carpet cleansers can cause skin irritation. Natural cleaners are much kinder to the skin and the carpet, as well as much less expensive than commercial counterparts. You can make your own carpet cleaner with natural ingredients that you already have in your pantry. It can be used with or without a carpet cleaning machine for spot cleaning or to clean the entire carpet.
Things You'll Need
Vinegar
Distilled water
Spray bottle
Baking soda
Towels
Vacuum
Mix 1 part white vinegar with 1 part distilled water in a spray bottle. Add 1/2 cup baking soda. Mix thoroughly.
Spray the solution directly onto the stain or use it in your carpet cleaner machine. Allow it to sit on the stain for 5 to 10 minutes.
Blot the excess vinegar solution up with clean towels until the carpet is nearly dry. Alternately, suck up the moisture with the carpet machine.
Mix equal parts vinegar and baking soda to form a paste and rub it into any stubborn stains. Allow it to sit for 10 minutes, then wipe it up with a clean towel.
Sprinkle baking soda over the carpet liberally once it has dried from cleaning. Allow to sit for several hours or overnight, then vacuum. This will deodorize the carpet.