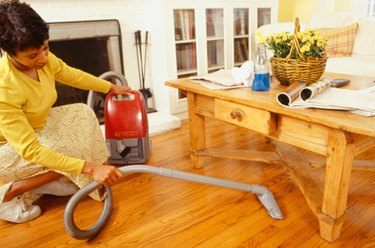 The Hoover WindTunnel vacuum cleaner is an upright model that features WindTunnel technology, HEPA traps and filters, multiple floor settings and detachable hand tools. For cleaning furniture, drapery and carpeted stairs, Hoover recommends the upholstery and powered hand tools. The crevice tool works well for tight spots like dresser drawers and baseboards, and the wand is an extension that attaches to the others. The hand tools vary slightly according to the model you purchase; for instance, the WindTunnel Max comes with a telescoping wand.
Step 1
Turn off the Hoover WindTunnel and push the handle to the upright position.
Step 2
Step on the brush roll pedal to place your vacuum in "Suction Only" mode, if applicable.
Step 3
Detach the hose from the hose tube by pressing the release button and pulling the hose upward.
Step 4
Select the appropriate hand tool and push its end into the hose. Twist slightly to loosen or tighten the attachment. For hard-to-reach areas, connect the wand to the hose and the hand tool to the end of the wand.
Step 5
Remove the hand tool and reattach the hose to the hose tube. Push down until you hear the hose click into place.
Warning
Always unplug your Hoover when it is not in use. Do not use on heated or wet surfaces.