A tulle shrug adds just a bit of light coverage to a strapless dress. Bridesmaids can wear a tulle shrug with a strapless dress for the wedding ceremony and take it off at the reception. Lightweight tulle is airy and feminine, contrasting nicely with a sleek solid-color dress. Match the color of the shrug to the color of the dress or add interest with a contrasting-color shrug.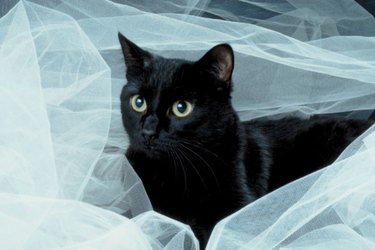 Things You'll Need
Tape

Tulle, 60-Inch, 2 Yards

Scissors

Pressing Cloth

Sewing Machine

Iron

Tape Measure

Matching Thread
Step 1
Wrap the measuring tape around your shoulders and under both arms so that the end touches the tape at the center of your back. This is easier if you have a friend help you. Add 3 inches to this measurement to determine the length of the tulle needed for the shrug. This adds 1 inch for seam allowances and 2 inches for ease. Cut the tulle to this length.
Step 2
Unfold the tulle. Sew the cut ends of the tulle together with a 1-inch seam allowance. Lightly press open the seam allowance. Use a low heat and a pressing cloth to avoid damaging the fabric.
Step 3
Sew a line of basting stitches 1/2 inch away from the seam on each side. Be careful not to sew through the fabric on the other side of the shrug. Pull the bobbin threads of both seams to gather the fabric. Gather the fabric until this part of the shrug is 9 inches wide. Tie off the threads to hold the gathers in place.
Step 4
Distrubute the gathers evenly. Set the machine to a zigzag stitch with a stitch width of 5 and a stitch length of 1.5. Sew along the first seam to hold the gathers in place.
Step 5
Turn the shrug right side out. Hold the shrug behind your back with the seam closest to you. Stick your arms into the shrug and pull the top edge up onto your shoulders. Adjust the fabric until it is even.
Tip
When measuring your shoulders, be sure the tape is loose and comfortable when you are standing with your shoulders straight.