Things You'll Need
English muffins

Nonstick cooking spray

Eggs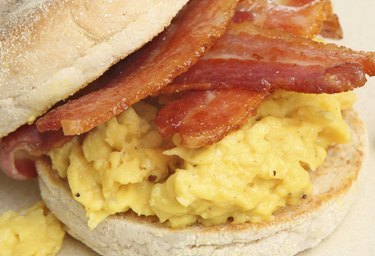 The Back to Basics Egg & Muffin Toaster, a combination toaster and egg cooker, was designed to make egg muffin sandwiches. It can also be used to toast bread, croissants and bagels, along with eggs, which can be poached, scrambled or hard-boiled. There are two models of the Back to Basics Egg & Muffin Toaster: Model TEM4500 has four slots for toasting and can boil up to eight eggs at once. Model TEM500 toasts two slices of bread and cooks up to four eggs.
Step 1
Remove the lid, warming tray, poaching pans and steamer tray from the Egg & Muffin Toaster. Place a split English muffin into the toaster slots. Adjust the browning controls to determine how toasted the muffin should be.
Step 2
Pour water into the toaster's measuring cup up to the "soft" or "medium" line above the "Poached Egg" mark and pour it into the heating tray. Place the steamer tray on top of the heating tray, and spray nonstick cooking spray on the poaching tray.
Step 3
Crack an egg into the poaching tray and place the tray on top of the steamer tray. Poke the egg yolk with a fork. Place the warming tray on top of the poaching tray and put the lid on top of the warming tray.
Step 4
Press the "Egg/Toast" button on the touchpad control, which will flash blue. Press the carriage levers down into the locked position, which will illuminate the "Egg/Toast" button. The cooking and toasting will not start until the "Egg/Toast" button is locked into position.
Step 5
Remove the muffins from the slots by lifting the carriage lever when the cooking and toasting are complete, and the muffin pops up. Remove the steamer, poaching and warming trays and allow the steam to dissipate. Remove the egg from the tray and place it on the English muffin.
Tip
Features of the toaster include a "Toast" only option and an "Egg" only option in addition to the "Egg/Toast" feature. The "Defrost" button for toast adds 30 seconds to the cooking time, and the appliance may be turned off at any time by pressing "Cancel."
Warning
To avoid spilling hot water, do not move the toaster once cooking has started. Be careful when removing hot food, and unplug the appliance from the outlet after each use.