Most egg roll recipes specify store-bought wrappers in the ingredient list -- and for good reason. Homemade wrappers require a certain knack for kneading and rolling. But for the determined from-scratch cook, egg roll "skins" are worth trying, especially if you allow extra time for do-overs. As their name suggests, egg rolls differ from spring rolls in that their simple flour and water dough also contains eggs. This addition results in a slightly thicker wrapper that can hold more filling, while also standing up to deep-frying.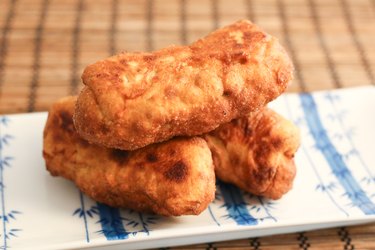 Things You'll Need
Cloth Towel

Whisk

Flour

Rolling Pin

Eggs

Mixing Bowls

Salt

Wooden Spoon

Pastry Cutter Or Sharp Knife

Ice Cubes
Step 1
Beat 1 egg for every 2 cups of flour you are using.
Step 2
Sift together a small amount of salt and the flour. Add the beaten egg and blend it into the flour and salt.
Step 3
Slowly add ice water, a bit at a time, until a stiff dough forms. This will probably require about 1 part ice water for every 8 parts flour.
Step 4
Knead the dough on a floured surface until the texture becomes smooth and pliable. It will take about 5 minutes of kneading to reach this elastic stage. Dampen a clean dish towel, cover the dough and place it in the refrigerator for 20 to 30 minutes.
Step 5
Roll out the dough on a floured work surface. Roll it as thin as possible -- no more than 1/8-inch thick. Cut the dough into squares that are about 6 to 7 inches on all sides.
Step 6
Assemble and cook the egg rolls. Alternatively, store the wrappers for later use by stacking them with a thin layer of cornstarch between each wrapper. Put them in an airtight container if freezing, or wrap them tightly and set them in the refrigerator until you are ready to cook.
Tip
If you're uncomfortable rolling out dough, consider making a batter rather than a dough, and briefly cooking the egg roll wrappers, crepe-style, in a 6- to 8-inch skillet. For this method, use more water -- about the same amount water as the flour you're using -- and keep it room temperature rather than iced. Ladle a couple of spoonsful of batter into the greased pan, and allow the batter to spread evenly as it cooks. Remove the egg roll wrapper when it shrinks back from the sides of the pan, and has not yet browned. Repeat with the remaining batter.
To make vegan egg roll wrappers, replace each egg in your recipe with egg substitute, following package instructions for amounts. Or put 1/4 cup silken tofu in a blender to puree it.
Warning
Roll stuffed egg roll wrappers as tightly as possible before frying them. Otherwise, the wrapper will loosen and some or all of the filling will come out while cooking.