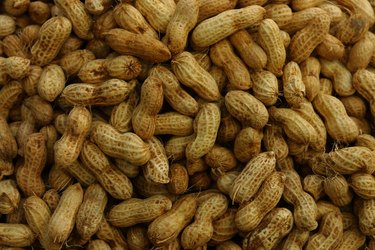 If you're from the South or if you're from an older generation, you might recognize the term "parched peanuts." The word parch means to toast under dry heat, to dry until shriveled, or to bring to the point of scorching. Parching peanuts is no more than roasting them in an oven. Do them right and they'll have a delicious roasted flavor; they'll be neither shriveled or scorched.
Step 1
Preheat a conventional oven or a toaster oven to 350 degrees F.
Step 2
Place a pound or two of raw peanuts, still in their shells, in a shallow pan or cookie sheet. Put no more than one layer of peanuts in the pan.
Step 3
Place the pan with the unshelled peanuts in the oven after it has reached 350 degrees. Cook for 20 minutes, then remove them from the oven, turn the oven off, and allow the peanuts to cool. Shell and serve.
Warning
Don't overcook the peanuts. Twenty minutes in a preheated oven is plenty of cook time to parch peanuts.