Things You'll Need
Halyard

Swivel snap hooks

Snap hook covers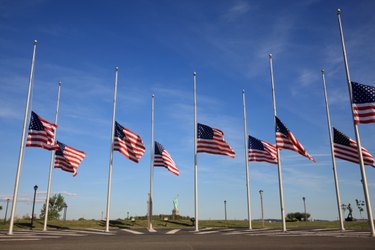 Sometimes there's nothing worse than the sound of a wind-whipped flagpole grating on the nerves. The noise is produced by flag snap hooks and halyard, or flagpole rope, forcibly blown against the pole. Government offices, conference venues and schools, for example, are guilty of hosting noisy flagpoles. Building occupants and even passersby regularly suffer the pain of pole noise. Insomnia is almost guaranteed when staying in a conference hotel room overlooking a regimental row of flagpoles. Some homeowners association rules forbid freestanding flagpoles.
Keeping flagpoles quiet
Step 1
Push the halyard rope through the small hole of the snap hook cover. Pull the halyard so that a loop is formed from inside the open end. Thread the loop, through the eyelet of the swivel hook downward, away from yourself. Loop the halyard back over the hook, toward your body. Pull gently to tighten the loop around the hook. Pull the halyard toward yourself so that the hook is safely inside the cover. Open each snap hook inside its cover and attach to each flag grommet or eyelet. Repeat the process to secure the other hooks.
Step 2
Attach a flag clasp to the pole to secure the external halyard. It will prevent the halyard from hitting the flagpole in windy weather. No damaging marks will be left on the pole.
Step 3
Buy a new or replacement flagpole such as a telescopic model. It is made up of several parts linked by bushings. Bushings are small metal cylinders designed to fit one inside the other. They move freely up and down and around, reducing friction and noise. A telescopic pole allows a hoisted flag to turn 360 degrees without hindrance and, most importantly, silently. There are no halyards or hooks involved. Purchase a flagpole with an internal halyard. As well as providing extra security, silent flag flying is achieved as the wind cannot reach the halyard.
Step 4
Wrap a foam bumper designed for outdoor use around the pole where the halyard strikes the flagpole. It may be a temporary measure and your sleep-deprived neighbors will appreciate its use.
Tip
Grommets or eyelets are holes with metal ring surrounds. These run down one side of the flag.
Warning
Check that each grommet or eyelet is securely attached to a covered snap hook, before hoisting the flag. A poorly secured flag can be a hazard if, in windy weather, it becomes detached from the flagpole.