Things You'll Need
Poster

Foam board (same size or larger than poster)

Ruler

Pencil

Craft knife

Large pieces of scrap cardboard

Spray adhesive

Small or medium-sized squeegee

Plastic sheet or garbage bag

Table

Books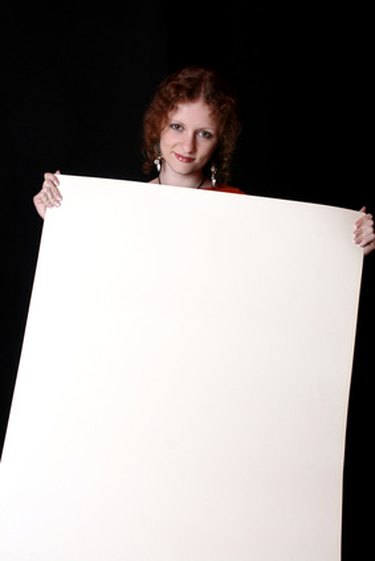 Posters and art prints provide an inexpensive solution to bare walls. Teenagers and college students enjoy the freedom to refresh the decor of their rooms by simply changing posters. However, posters hung with thumbtacks or nails quickly begin to curl at the edges, sag and tear, and you may desire to preserve favorite posters for as long as possible. Purchase a few basic supplies at an arts and craft store and you will be able to mount your poster quickly and easily.
Mounting Your Poster
Step 1
Lay your poster flat on top of the foam board. Trace the outline of the poster onto the foam board with the pencil, using the ruler to create straight lines. Set the poster aside.
Step 2
Place the foam board onto a larger piece of scrap cardboard and ensure that the cardboard is level so that the foam board does not bend. Cut the foam board to the size of the poster using the craft knife--press firmly, cutting into but not through the cardboard padding. Save the scrap foam board for future craft projects.
Step 3
Position the poster printed side down on another piece of scrap cardboard that is larger than the poster. Spray the back of the poster with adhesive using slow, sweeping strokes--work your way from the top of the poster to the bottom. Spray the top of the foam board with adhesive using the same technique.
Step 4
Allow the poster and foam board to set for approximately 30 seconds, according to the manufacturer's instructions, until the adhesive becomes slightly tacky or sticky to the touch.
Step 5
Place the poster onto the foam board gently, with printed side up. Squeegee the poster slowly, working from the center toward the edges to remove any air bubbles.
Step 6
Lay a plastic sheet or garbage bag on the table. Flip the poster-foam board sandwich and lay it printed side down on the plastic. Place books on the back of the foam board to ensure that it does not separate from the poster while drying--make sure to place a book on each corner.
Step 7
Allow to dry undisturbed for 24 hours before hanging.
Tip
Use this technique to mount your poster onto a thin piece of paneling wood or other wallboard, seal over the poster with a few coats of varnish and use picture hanging wire to hang your poster--this will be a much more permanent solution for art prints.
Warning
Work in a well-ventilated area and do not smoke while applying spray adhesive because it may be flammable!