Things You'll Need
Foam board

Poster

Double-sided tape

Books, cans or other weights

Self-adhesive photo corners

Spray adhesive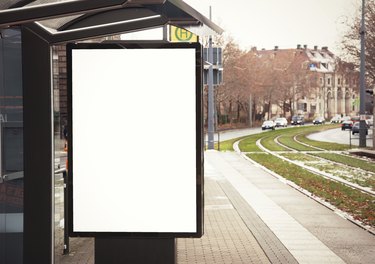 Mounting a poster on foam board not only gives it a stable backing but also makes display and framing much easier. While you could use regular craft glue, there's a high risk of damaging the poster and leaving wrinkles and ridges. Other options will leave your poster pristine and make for an attractive display.
Quick and Simple Attachments
Step 1
Place the foam board on a flat surface.
Step 2
Center the poster on the foam-core sheet.
Step 3
Place books, soup cans or other heavy objects on the poster to hold it in place.
Step 4
Lift a corner of the poster and place a 2-inch strip of double-sided transparent tape on the foam board, directly under the corner of the poster.
Step 5
Peel the protective backing from the tape and press the poster corner onto it.
Step 6
Move across the top of the poster, about a quarter of the width, and place another piece of tape. Repeat about halfway and about three-quarters of the way across, as well as in the next corner.
Step 7
Repeat the tape placement along each side and the bottom of the poster.
Securely Removable Solutions
Step 1
Set the foam board flat on your work surface.
Step 2
Slide the corners of the poster into self-adhesive photo corners.
Step 3
Position the poster on the foam board.
Step 4
Remove the backing from the adhesive side of the photo corners and press them onto the board.
Spray Away to Adhere It
Step 1
Lay the foam board on a flat surface.
Step 2
Place the poster on the board with the back side facing up.
Step 3
Spray the back of the poster lightly with an acid-free spray adhesive.
Step 4
Turn the poster over carefully and position it on the board.
Step 5
Smooth the poster from the center to the edges, using either the side of your hand or a ruler.
Tip
Clamping the edges of the poster to the board can help make the spray adhesive more permanent.
Warning
Be sure to use acid-free paper and adhesives to preserve the integrity of your poster as time goes by.