Things You'll Need
Foam sheet

Cotton fabric

Cardboard

Measuring tape

Scissors

Stapler

Decorative frame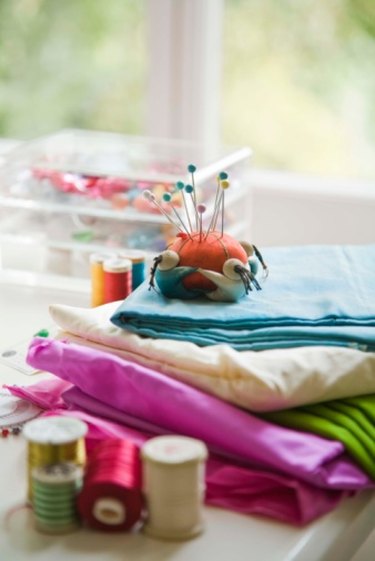 If you use cork board in order to keep track of your scheduling and important notes or to display your child's school papers or artwork, then you know how unbecoming a cork display board can be hanging up on your wall. One solution is to make a fabric covered foam display board that is just as useful, but looks more attractive on your wall. You can even select fabric that matches the rest of your room decor.
Step 1
Cut out a rectangle of foam sheeting that measures 8 inches wide and 10 inches long. You can buy foam sheeting at any craft store.
Step 2
Cut out a rectangle of cardboard that measures 8 inches wide and 10 inches long. You can use cardboard from old boxes, or buy cardboard sheets from a craft supply store.
Step 3
Cut out a rectangle of cotton fabric that measures 12 inches wide and 15 inches long. Select any pattern of fabric that you like.
Step 4
Place the foam rectangle on top of the cardboard rectangle. Drape the fabric rectangle over the foam and cardboard, centering it evenly. Flatten out the fabric to remove any folds.
Step 5
Fold the excess fabric over the sides of the foam and cardboard rectangles, and staple the excess from each side onto the back of the form.
Step 6
Remove the backing from a decorative frame and discard the glass from the frame.
Step 7
Put the fabric-covered foam into the decorative frame, and place the backing back onto the frame. Hang up the framed display board for use.