Things You'll Need
Felt or strong craft glue

Red Felt

Head band (preferably red or black)

Toy stuffing or cut up rags

Sequins or glitter (optional)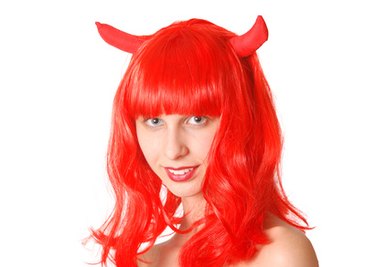 Devil horns are something easy and quick to make for a Halloween, themed or hen party. If you are feeling adventurous and you have some spare red material you could also make a tail to go with the horns. Dress up in a red or black outfit and you are all done. The great thing about the devil horns are that they can be worn by man, woman or child and be kept and reused.
Step 1
Cut out two diamond-shape pieces from the red felt. Make them the size you would like your horns to be. Note that the horns will be half the size of the diamond shape.
Step 2
Fold each diamond-shape felt piece on either side of the top of the head band so that the horns will sit on top of your head.
Step 3
Glue down one side of each horn so that you have an opening on the other side. Wait for the glue to dry before going to the next step.
Step 4
Stuff each horn with the toy stuffing or rags and then glue the other side of the horn up. Wait for the glue to dry before wearing.
Step 5
Decorate your horns by gluing on sequins or glitter. You don't have to decorate them you could just leave them plain if you wish.
Tip
The glue will dry quicker if you lace the horns on top of a radiator.
Warning
Do not let small children use felt or strong craft glue. Do not let small children play with sequins and glitter as they can be a chocking hazard.