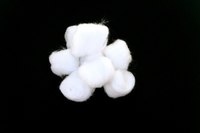 The little animal Halloween costumes you find in retail stores are really cute, but they can be costly. You can save yourself some money if you have a little time to spare and create your own costume from scratch. With a few basic steps, you can create a sheep costume for your child.
Things You'll Need
White hooded sweatshirt
White sweatpants
Pillow stuffing or cotton balls
Black shoes
Double-sided tape or glue
Lay the sweatshirt and the sweatpants on a flat surface.
Attach fiberfill or cotton balls to the clothing. If you would like to reuse the clothing after Halloween, attach them with double-sided tape.
Apply cotton balls or fiberfill to the back side of the clothing. Don't miss any part of the outfit; even the arms and the hood of the sweatshirt should be covered.
Dress your child in her outfit.
Apply white makeup to a small area of his face to test for allergies, then apply the makeup to the entire face. Apply a little black to the tip of the nose.