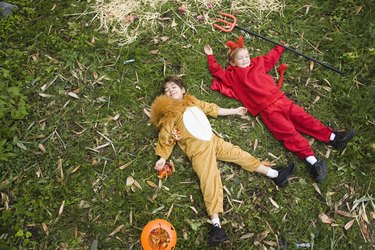 What do farmers and devils have in common? Pitchforks! However, come Halloween, a devil's pitchfork is much more in tune with the holiday. There's nothing quite as impressive as an excellent devil with a pitchfork costume come October 31, and this could be your year to make a DIY devil costume for yourself or for your child.
Devil With a Pitchfork Children's Costume
The first decision you need to make is the type of devil you want to portray. Children can make cute little devils, ladies may prefer to make a sexy women's devil costume, and others may prefer to be downright scary.
One simple DIY toddler devil costume uses red footie pajamas or a matching pair of red pants and a sweatshirt. To make a DIY toddler devil costume, get a red bonnet and then cut out and glue stiff felt pieces for the tail and horns. You can use fabric paint to draw on and fill in flames along the pants.
Devil With a Pitchfork Women's Costume
Sometimes, DIY women's devil costumes are on the sexier side. If this is more your style, you can start with some spicy red clothing (a dress or top and pants) and either buy a red cape or make one from red satin using your measurements. To make your horns, get a plastic hair band and glue on red felt. The costume's tail can be made from felt cut into a strip. Sew up three sides and then stuff the other with cotton batting and safety pin it onto the back of the outfit. Add some high heels and sexy or scary makeup, and you should be ready to go.
For the most important accessory, get a cardboard box and draw a pitchfork shape with a utility knife. The pitchfork should be as long as the person holding it (for an adult). Start by drawing a wide letter "U" shape at the top and then a long, straight line that runs from the top down. Add triangles at the top of the lines and then thicken the lines and cut out the shape with a utility knife. Push this onto sticky-backed black or red foam and cut it out. Cover the bottom with black duct tape to make it easier to hold.
If you want a wooden pitchfork that is larger and sturdier, you may want to use an old, crescent-shaped broom. You will also need some empty paper towel rolls, a cardboard box, red duct tape, red paint and a tarp to complete this DIY project. To begin, remove all the bristles from the bottom of the broom and place a large piece of tarp outside your house.
Next, cut out three pieces of foam in triangular shapes that will fit on top of the cardboard tubes. Attach the three paper towel rolls to the broom's frame with the duct tape and then attach the triangles to the tops. Then, lay down the pitchfork on the tarp and coat it completely with red spray paint. Make sure that you give it time to dry and then see if a second coat is required. When the pitchfork has dried, you can decorate it with black ribbon, black paint or even rhinestones (using hot glue) if you'd like.