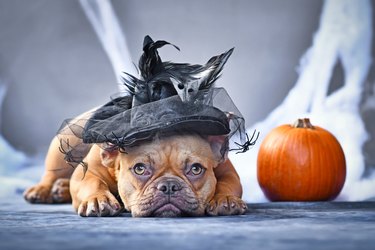 Are you wondering how to make a dog costume? More specifically, do you need to know how to make a tail to complete any DIY dog costume? Whether you can sew or not, it doesn't take a lot of time to make Halloween dog costumes for kids or adults. The tail will probably be the last part that you add on, and if you do it right, it will wag as you walk!
How to Make a Dog Costume for Toddlers
If you have a baby or toddler, there are some easy steps you can take to make a puppy costume without sewing. First, get a hooded sweatshirt and pants in whatever doggie color you like. You will also need about a yard of brown felt and black felt plus brown and black furry fabric, scissors and a hot glue gun.
Using the scissors, cut out spots from the felt and furry fabric and reserve some extra furry pieces. Cut out ears from the extra fabric and then glue them to the top of the hood. Finally, cut out a tail. Glue the tail to the pants or to the bottom of the sweatshirt – and woof woof, you're done!
PAW Patrol Marshall Costume
If your child is a PAW Patrol fan, you can make an easy PAW Patrol marshall costume. All you need is a kid-size red fleece vest; yellow duct tape; orange, yellow, red and black felt; and a hot glue gun. There are many templates available online that you can use to download his badges, which can then be traced onto the felt and then cut out and glued on.
The yellow duct tape can be fitted around the top of the collar. You can decorate a play fireman's hat with black and white felt or even buy one to use. The final touch can be an actual pup on a leash or a stuffed dog.
Are you wondering how to make a tail? Adult DIY dog costumes can be made in pretty much the same way as you do for children, but you can make these from solid-colored onesies for a more authentic look. Two-piece sets are much better for young children who need to have diapers changed or use the bathroom often. You can use the furry material, felt, scissors and hot glue gun to decorate your onesie with spots and ears, and you can even buy a real dog collar to wear if you'd like.
Whether you are seeking a Dalmatian tail or a golden retriever tail, this project is accessible to most crafters. You can make an attachable dog tail using some of the leftover furry material or felt. First, cut a strip measuring approximately 15 by 3 inches with the bottom rounded and fold it in half. Hot glue it all the way around but leave the wider end open. Finally, carefully stuff it with cotton batting and then glue it shut and attach it to your costume with a safety pin.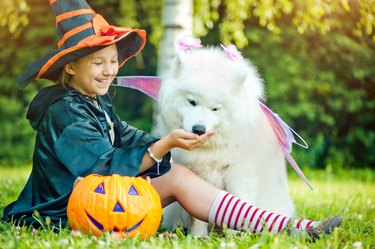 You can also use a long sock or one leg of a stocking that matches the fur if you'd rather use something that requires even less effort. First, stuff the sock with cotton batting. If you do not have any, you can try cotton balls or cloths but be sure that the tail does not look lumpy. Carefully knot the end and then safety-pin it onto the costume. Feel free to decorate the tail with furry material, felt patches or fabric markers. For curly tails, stuff them lightly, wind them up and fasten them with more safety pins.