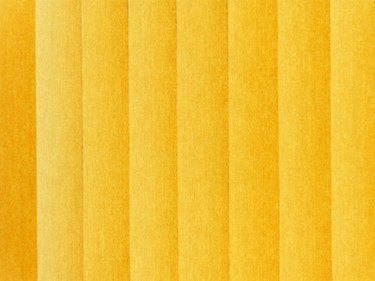 Vertical blinds are a type of window covering that are commonly used for large windows and sliding glass doors. They can make a room appear more modern and elegant because the blinds are vertical, rather than horizontal, creating a flowing, curtain-like appearance. If you're replacing your vertical blinds, you might be wondering what you should do with your old blinds. Before you throw them out, understand that you do have the option of recycling your vertical blinds, which can protect natural resources and conserve energy.
Step 1
Examine your vertical blinds closely to evaluate their condition. If they are still usable, you can donate them instead of throwing them out. Charity organizations, community centers and thrift shops are likely recipients of perfectly usable vertical blinds.
Step 2
Contact the manufacturer and ask about their recycling program if the blinds are too damaged to donate. Some companies, such as Blinds To Go, offer take-back recycling programs where you can send them your old vertical blinds and they'll recycle them for you. Blinds To Go accepts all blinds in store locations, regardless of where they were purchased.
Step 3
Determine the material, or materials, your vertical blinds are made of if you cannot find a manufacturer recycling program through the manufacturer or near you. You can find this out by checking the product description, consulting the owner's manual, or contacting the manufacturer.
Step 4
Check with your local recycling center to find out if they accept the type of material your vertical blinds are made of, or blinds in general. Many recycling centers will accept household items like blinds. Use online resources, such as Earth 911, to find recycling centers near you.