Things You'll Need
Tin snips

Hacksaw

Measuring tape

Pliers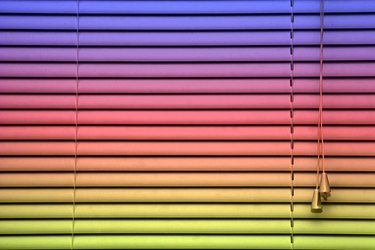 The headrail of a pair of blinds is the top of the blind that attaches to the window to hold it in place. Sometimes you measure wrong or the company sends the wrong size. If the headrail is too long it won't fit in your window. In order to get an exact fit for your window you can cut the headrail down to size.
Step 1
Measure the proper width of the window with the measuring tape. Measure the blind's headrail with the measuring tape and mark the place where you are going to cut the blinds.
Step 2
Pull out the stiffener from the side of the headrail.
Step 3
Cut along the marked line with the tin snips or the hacksaw. Cut through plastic slowly.
Step 4
Bend the plastic on the cut side back into place with the pliers. Place the stiffener into the newly cut side of the headrail.