Things You'll Need
Ladder

Power drill with screwdriver attachment or screwdriver

Wood putty

Sandpaper

Paint

Paintbrush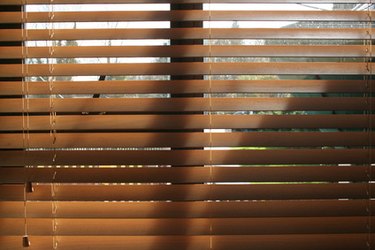 Hunter Douglas has been manufacturing window shades for more than 60 years. In the 1970s, they introduced the first energy saving window shade. The Hunter Douglas line of Silhouette blinds can bring a touch of class to any room in your house, not to mention help save on energy bills by cutting down the amount of heat and light entering the room. But if you ever need to remove Hunter Douglas Silhouette blinds, it isn't a time consuming task. With the use of a little wood putty, you can return your room to it's pre-shade condition.
Step 1
Pull on the blind cord so that the Hunter Douglas Silhouette blinds are retracted into the headrail.
Step 2
Position your ladder (if necessary) in front of the blind you want to remove.
Step 3
On exterior mount blinds, remove the dust cover by pulling outwards. This step is not necessary on interior mount blinds.
Step 4
Remove the headrail by pulling back firmly but gently.
Step 5
Remove the mounting brackets by unscrewing the screws with a power drill and screwdriver head.
Step 6
Fill in the holes with wood putty. Smooth them over with the putty knife. Allow to dry, then sand down the surface. Paint over the putty filled holes to conceal.