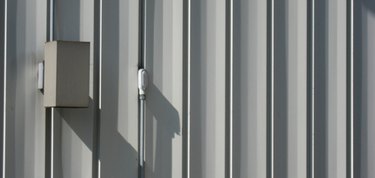 Vinyl siding is a wonderful product that many homeowners prefer to use on their homes in place of wood. This is because vinyl siding is easier to clean, doesn't rot and is long-lasting. Typically, 60 to 70 percent of all vinyl products are made from recycled vinyl, according to the Vinyl Institute. If you're removing old vinyl siding and wish to recycle, a few options are available depending on where you live. Most landfills are a pick-up point for vinyl siding to be taken to a recycling facility. However, resources are available to help you find recycling facilities in your area.
Step 1
Remove all your old siding and separate it from other products, such as any foam, rubber or nails, that may be attached.
Step 2
Locate a vinyl recycling facility in your area. You may want to inquire at your local landfill or dump area for vinyl recycling facilities. Typically, vinyl is picked up at landfills by recycling facilities but you can also search the database of recycling facilities on the Vinyl Institute website and search state by state for available facilities (see Resources).
Step 3
Arrange for transportation of your vinyl siding to the recycling facility. You can contact a local dump truck or hauling company or, if you're donating your siding, the recycling facility may arrange for free pickup and transportation of the siding.
Warning
Ensure that you use caution when removing vinyl siding. Sharp objects may be attached that can injure you or others near the siding.