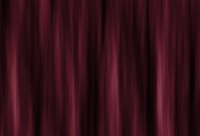 Instead of purchasing curtains with blackout panels sewn in, you can attach blackout panels to curtains you already own. Blackout panels block light from entering a room through the windows. These panels can be purchased from online retailers, department stores or almost anywhere curtains are sold. A dark room is ideal for people who work late shifts and need to sleep during the day. Blackout panels also provide more insulation from hot and cold weather than normal curtains, making them energy efficient.
Things You'll Need
Blackout panels
Magnetic strips
Take down your curtains and spread them out face-down on the floor. If you do not have enough space on your floor, spread the curtains out on your bed or table.
Attach drapery hooks to the curtains by sliding the pin portion of the hooks through the curtains. The hooks should be spaced evenly, about 3 inches apart. If you already have drapery hooks attached to your curtains, this is not necessary.
Lay the blackout panels directly on top of the curtains. Look inside of the blackout panels and find the line of looped thread that spreads across the width of the panels along the top.
Line up the looped thread with the hooks without hooking them in. Slide the magnetic strips included with the blackout panels into the small pockets located on the sides of the curtains. The magnetic strips will attract to each other and seal out the light when the curtains are closed.
Match the edges of the blackout panels with the edges of the curtains. Find the loops on the blackout panels and attach each looped thread to each hook on the curtains.
Slide the curtains back on to the curtain rods. Hook the rods back onto the wall brackets to hang the curtains.