Things You'll Need
Baking soda

Broom

White vinegar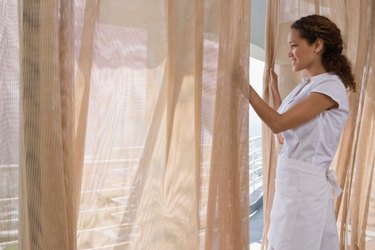 New textiles sometimes have a strong smell. This can come from the shipping and packing method or from the manufacturing process. Eventually this smell will dissipate, especially if you keep your windows open and your home well-ventilated. If you can't handle the smell, work to remove it by using a natural cleaning solution that neutralizes and removes fumes and strong odors.
Using Baking Soda
Step 1
Lay the drapes out flat on the floor. Do this in a room that will not be disturbed by children or pets.
Step 2
Sprinkle the entire surface of the drapes with baking soda. Baking soda is a natural odor absorber that will help dissipate and absorb fumes and odors. Let the baking soda sit overnight.
Step 3
Sweep off the baking soda in the morning and discard it. Shake off the excess baking soda outside.
Step 4
Repeat the process with the other side of the drapes.
Using White Vinegar
Step 1
Fill a spray bottle with white vinegar.
Step 2
Mist both sides of the drapes with the white vinegar.
Step 3
Smell the drapes after they have completely dried.
Step 4
Repeat the process if the smell remains.