Things You'll Need
Traverse rod kit

Measuring tape

Curtains

Pleater tape

Scissors

Sewing machine

Thread

Drapery hooks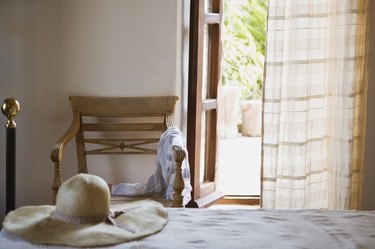 Traverse rods will reduce the number of times that you will have to clean your curtains by reducing number of times that you handle the fabric. When you open and close a curtain by pulling on the material, you usually handle it in the same location and leave oils from your hands on the fabric. Over time, an oily spot will form on the curtain. The traverse rod provides drawstrings for opening and closing the curtains. Although the traverse rod system was made for pinch pleat curtains, you can adapt almost any rod pocket curtain to work on the rods.
Step 1
Mount the traverse rod supports and bracket according to the packaging instructions. Hang the rod in the supports and brackets. Lock the rod to secure it in position.
Step 2
Measure the width of your curtain panels. Cut a piece of pleater tape to this size. Pleater tape is a band of material that has the pleat pockets already sewn in. Sew a 1/2-inch seam across the top of the rod pocket curtains, right sides together. Flip the pleater tape to the back of the curtain. Pin the pleater tape to the wrong side of the curtain a 1/2 inch from the top. Pin the raw edges of the tape under. Stitch in place.
Step 3
Lay the curtains flat, wrong side up. Install one drapery hook into the pocket of the pleater tape. The first hook should be at the end of the panel. The hook will not pierce the front fabric. Instead, it will go down into the layers that form the pleater tape pocket. Measure 4 inches, and place another drapery hook. Continue across the top of all the curtain panels.
Step 4
Carry one curtain panel at a time to the traverse rod. Hook the drapery hooks into the holes on the rod sliders.
Tip
Choose pleater tape that is the same width as the rod pocket on the curtain. The seams holding the pleater tape to the curtain will not reduce the size of the pocket. You will be able to use your curtains with a regular rod or a traverse rod.
Warning
When sewing the pleater tape to the curtain, use a thread that matches the curtain fabric instead of the tape fabric. This thread will show on the front of the curtain.