Things You'll Need
Tulle

Strand lighting

Scissors

Safety pins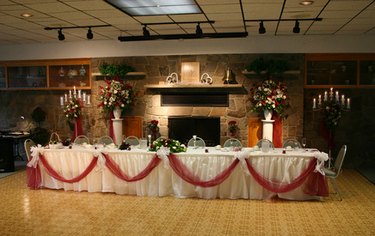 When decorating tables for your wedding and reception, tulle makes an inexpensive addition to tables while also providing an elegant look. Tulle can be purchased in many colors and weights, from very heavy to very soft. It can be purchased pre-lit or you can purchase a strand of mini-decorating lights and create lighted tulle yourself. Attaching the tulle to a table is simple if you are using a tablecloth to cover the table underneath the tulle. Tulle is a very lightweight fabric and can easily be attached using a safety pin.
Step 1
Cut a strand of tulle that is two to three times the length of your table. The actual length will be determined by how much you drape the fabric in the front of the table.
Step 2
Lay out the strand of lights on the floor and connect more than one strand, if necessary, until the strand reaches twice the length of the table. Plug in the lights first to make sure all bulbs work before you begin wrapping tulle around the lights.
Step 3
Wrap the tulle around the strand of lights gently in a diagonal motion to cover the lights fully. Use caution to avoid poking a hole in the tulle with one of the lights. Enclosing the lights in the tulle provides a romantic glow.
Step 4
Drape the tulle in the front starting at one end of the table. Attach the tulle to the corner of the table using a safety pin. Instead of pinning the tulle to the tablecloth from the top side, pin it from underneath so the pin is not visible.
Step 5
Continue to drape the tulle across the table, pinning it in several places to secure it to the tablecloth until you get to the end.
Step 6
Plug the lights into an electrical socket in the wall to illuminate the lighted tulle and adjust your draping widths to ensure everything looks even.
Tip
As an alternative, you can also use pew hooks to attach the tulle to the tablecloth. These typically cost more than regular safety pins if you are attaching tulle to multiple tables. You can also use battery-operated strand lighting instead of strands you plug in. This allows you to place the lighting anywhere, rather than being limited to only placing the lighting close to an electrical outlet or using an extension cord.