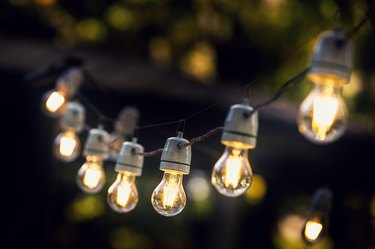 People like curtain lights because they look enchanting and almost magical. They are not part of a curtain nor do they keep out the light as curtains do. Instead, they are purely decorative and consist of multiple strings of lights that hang down vertically. The effect looks like a cascade of twinkling lights.
You can use these decorative lights inside and outside as long as an outlet is nearby. The power cord on the lights must be able to reach that outlet; otherwise, you'll have to use an extension cord. You can also find curtain lights of various sizes and colors that are USB- or battery-powered, which can be more convenient. Look for ones with LED lights that offer different settings to make lights flash, fade or twinkle. Other good options include remote controls, waterproof bulbs and cords and sound-activated lights.
Curtain lights provide a lovely ambiance for homes during the holidays, but there's no reason you can't keep them hung year-round. Curtain lights add a nice touch to special occasions and events by adding colors, patterns and textures to rooms. A well-placed set of curtain lights can change the entire look and feel of a room or outdoor space.
How to Put Up Curtain Lights
Before shopping for curtain lights, measure the space and buy lights that fit. There will be one long cord that you need to hang horizontally, and the lights hang down on vertical cords or wires. Some curtain lights may come with hardware for hanging them; otherwise, you can use cup hooks. You can drill small holes close to every other strand and then screw in the cup hooks.
You can hang curtain lights on a regular wall or on top of a window. You can hang them in the back of a pair of sheets or in front of them; the lights also look magical in front and back of other kinds of window treatments. You can hang them anywhere; they even look cool in entryways.
If you don't want to make holes in your wall, don't use tape because it is not strong enough and could also cause damage when you pull or peel it off. Instead, try adhesive hooks that will not leave any marks. Some will lose their stickiness after a while, so you'll want to test them every few months or so. Some common recommendations include Command hooks, Crafts House hooks and ATB Clear Light hooks.
Curtain Lights Hanging Instructions
Carefully pull out the curtain lights from their package, taking care not to break any of the lights. Hang one hook on the farthest end of where you want the lights to be located. Measure the lights to see how far they extend horizontally, mark the wall and make additional marks where you want the rest of the hooks to be placed.
Now, you can hang the light cord on the hooks and loosen the strands so they flow down. The good thing about adhesive hooks is that you can remove them and move them if you need to do so. Should the string look uneven or you want to change it in any way, remove the adhesive hooks and reattach them.