Things You'll Need
Spool of thread

Spool cap (for horizontal spool pins)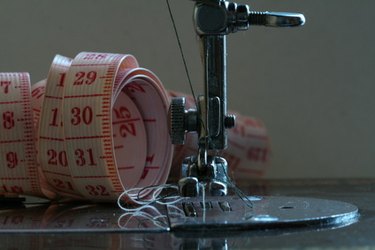 Elna sewing machines were originally manufactured and designed in Switzerland. The popular line of sewing machines is known for durability and fine quality. These sewing machines are also praised for their dependability and precision. If you want to start using an Elna sewing machine, the first thing that you must learn is how to properly thread it. This can be done in just a few minutes.
Step 1
Draw the thread from its spool to the first guide. Make sure that your thread flows freely off its spool as some threads often snag. Use a spool cap if you have a horizontal spool pin. The spool cap must be slightly larger than your spool's end, as it will help lift your thread off the spool's edge.
Step 2
Look for the next thread guide at the left side of the first guide. Your Elna sewing machine may have up to four thread guides, right across its top, back, as well as toward the front side of the machine.
Step 3
Draw the thread through tension discs after threading them through the guides. You can locate the tension discs for older models easily since they are front mounted. For later models, the tension assemblies can be found under the machine covers.
Step 4
Raise your machine's presser foot lever to begin threading the tension discs. Keep this up until you are able to reach the needle of the sewing machine.
Step 5
Allow the thread to follow through the upper thread guides and to go through your tension discs. The tension discs usually consist of two or even more flat round discs. These will press against your thread while sewing to provide tension. Let the thread flow through the tension spring and to your take up lever, before finally arriving down through the tension guides and the needle's eye.