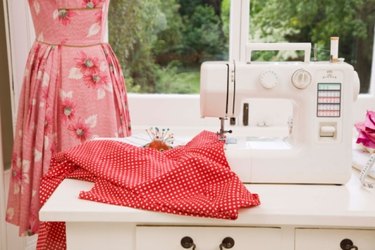 Dressmaker sewing machines are made by Euro-Pro Operating LLC. There are many different models of Dressmaker sewing machine, ranging in price from $15 to over $300 as of early 2011. Dressmaker also offers a portable sewing machine that runs on batteries. Dressmakers offer many different features to make sewing easier for its users. The features on your particular Dressmaker model are listed in your user's manual, and you should always review the guide prior to operating the sewing machine.
Step 1
Press the inner button on the hand wheel to disengage it. Place a spool of thread on the spool pin.
Step 2
Guide the thread through the arm thread guide and place the end of the thread through the bobbin. Attach the bobbin to the bobbin spindle.
Step 3
Press the power pedal to create the bobbin. Hold on to the thread lightly and it will break as the bobbin is made. The machine will stop when the bobbin is completed.
Step 4
Insert the bobbin into the bobbin case and guide the end of the thread through the slot under the tension spring.
Step 5
Release the inner button on the hand wheel so the needle will move. Turn the hand wheel, raising the needle to the highest position.
Step 6
Lift the bobbin cover to allow its placement. Slide the bobbin in and release the bobbin case latch. Close the front cover.
Step 7
Place the spool of thread on the spool pin and lead the thread through the upper arm thread guide. Move the thread down and between the tension discs from right to left. Pull on the thread lightly to make sure the thread is fairly tight.
Step 8
Pull the thread through the thread take-up lever, the check spring, and through the needle. Hold the thread loosely and turn the hand wheel to thread the bobbin up through the face plate. You can now begin sewing.
Step 9
Adjust the "Drop feed" by turning it counterclockwise for ordinary sewing. Turn the "Drop feed" clockwise to allow free movement of the material.
Step 10
Adjust the stitch length by turning the feed dial. Press the center of the feed dial to use reverse sewing.