Things You'll Need
Template (optional)

Pencil

Scissors

Felt

Craft foam

Paper

Scissors

Stickers

Crystals

Embellishments

Glitter glue

Markers

Elastic

Hot glue gun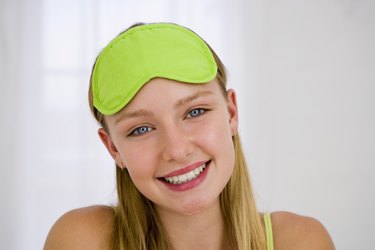 Blindfolds come in handy for games at children's birthday parties or a round of pinata whacking. They can even be used in a pinch for sleep masks. Make simple blindfolds without having to pull out a sewing machine or needle and thread. For party blindfolds, let the blindfold making be a part of the festivities and have kids decorate their own blindfolds.
Step 1
Cut a blindfold shape out of your craft foam, felt or paper, or use a template as a guide.
Step 2
Decorate the blindfold by using a hot glue gun and crystals on foam or felt, or by coloring and using stickers on a paper blindfold. Use glitter glue to draw designs or a child's name on the blindfold. Allow the blindfold to dry.
Step 3
Measure and cut lengths of elastic to go around kids' heads, allowing a little extra to attach the elastic to the blindfold. Start with 10-inch lengths of elastic and adjust as necessary.
Step 4
Secure the elastic by using either a hot glue gun or a stapler to attach each end of the elastic to the inside of the blindfold, so the blindfold can easily be slipped over a child's head and fit comfortably. Allow any glue to dry before the child wears the blindfold.
Tip
For a very simple blindfold, grab a bandanna and fold it into a large triangle. Fold it up until it is one long strip that can be tied around the head.