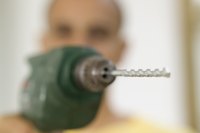 Bali DiamondCell blinds are a type of cellular shade produced by Springs Window Fashions. These blinds use a special fabric design to provide insulation and can also darken a room. They can be easily removed for cleaning or if new window coverings are desired.
Things You'll Need
Ladder
Slotted screwdriver
Use the cord to pull the Bali DiamondCell Blinds to the top of the window.
Place the ladder directly below the blind in the center of the window. Climb high enough to reach the top of the blind.
Hold the headrail (the top of the shade that contains the moving parts) gently with both hands and bring it forward and down to remove the blind from the clips. Place the blind on the ground.
Use the cordless drill in reverse to remove the screws from the mounting brackets. Choose a drill bit that matches the size and shape of the screws.