Things You'll Need
Replacement slats

Fabric

Glue or adhesive sheets

Paint

Stamps, sponges or rags

Dye

Foam craft brush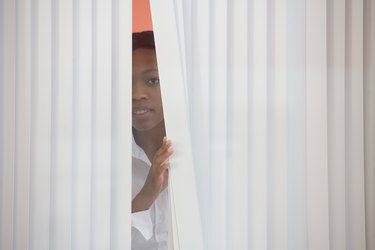 Vertical blinds are window treatments for larger glassed areas such as sliding glass patio doors. The slats of most vertical blind sets are made of thin panels of plastic, sometimes covered in a fabric. With age, they can become brittle or soiled. In addition, housepets and small children can damage the slats. You could always simply add replacement slats to restore the blinds to their former state, but you can do so much more. To update the look of your vertical blinds, make your own slats. Buy regular replacement slats and add your own personal style.
Step 1
Buy new slats to replace any broken ones. Clean the existing slats well with warm soapy water and dry them well. No matter what you do to create your own slat designs, you must start with an extremely clean foundation.
Step 2
Cover the slats with new fabric to match your room decor. Use one of the slats as a pattern to cut a strip of fabric for each slat. Apply a thin, even coat of glue to a slat and carefully smooth the fabric strip onto the slat. Instead of glue, you can buy sheets of adhesive the same size as the slats. Regardless of the method of attaching the fabric, smooth out all the bubbles. If the fabric has a pattern, use care to match the pattern across the slats. Let the adhesive dry completely before reinstalling the slats onto the blind mechanism.
Step 3
Paint the slats. Use spray paint or brush paint. Use specialized paints such as suede-textured or metallic flake for special effects. Paint a base color and stamp designs on the slats in a contrasting or complementary color. Use a sponge or rag to achieve other special effects. If the slats have a fabric finish to begin with, they will absorb a lot of paint, so buy more paint than you think you will need.
Step 4
Dilute paint or dye with water and paint it onto the slats with a foam craft brush. The color will be translucent, so choose something that will coordinate with the base color of the slat and the colors in the rest of your room.
Tip
Make extra new slats for your vertical blinds and store them in acid-free plastic. Then, in case of future breakages, you do not have to try to make more slats to match.