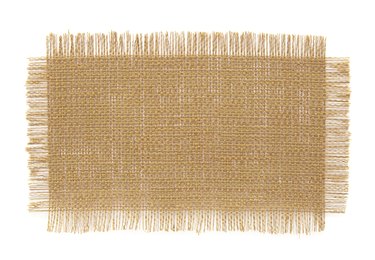 Burlap is an incredibly versatile material for crafting and creating your own decorative accents. On its own, it looks a bit natural, raw and rough, but with a little paint, it becomes the star attraction as a monogrammed place mat, creative cafe curtain or funky pillow covering.
Picking the Perfect Paints
Just about any water-based paint that adheres to porous materials will also stick to burlap. Burlap's open, porous structure makes it quite receptive to paint, but it also means that paint could bleed through easily. Acrylic craft paint, chalk paint, spray paint, fabric paint or even leftover latex paint may be used on burlap. Avoid using oil-based paints, as they take quite a bit longer to cure than water-based paints, and they're generally not intended for fabrics.
Let's Roll
If your burlap project requires a backdrop of any shade other than beige, a paint roller helps achieve the desired look. Protect the work area with a tablecloth or sheets of newspaper; then set the burlap atop it. Create clean boundary lines for the paint by applying painter's tape along the desired edge lines. Pour some chalk paint or fabric paint into a paint tray; then dip a foam roller in it, rolling a majority of the excess paint off into the tray. Roll the paint over the desired area in thin layers; too much paint and the paint will bleed through the fabric or dry in thick blobs.
Stripes and Straight-Edged Designs
To paint stripes, chevrons or straight-sided geometric shapes on burlap, apply strips of painter's tape as boundaries for each stripe or line, much like painting the pattern on a wall. Apply a paint such as acrylic, latex or fabric paint between the lines using an inexpensive nylon-bristled brush: Natural-fiber brushes may lose some of their bristles in the paint due to the rough burlap texture. Remove the tape as the paint starts to dry. This technique may be used on sheets of burlap or on items already covered in burlap, such as pillows.
Stencils, Stamps and Hand-Painted Projects
Stencils allow you create somewhat detailed patterns such as vines or geometric prints over an entire burlap surface. Smooth the stencil onto the burlap; then pounce the paint on between the lines using a foam stencil pouncing tool or a synthetic-bristled brush. Use a little paint at a time rather than a lot; otherwise, it may seep beneath the stencil, damaging your intended design. To stamp designs, dip the stamp into an acrylic, latex or chalk paint; then press it firmly onto the burlap. Fabric paint may be too thin to create a detailed stamped design. Freehand your own ideas over burlap using an artist's brush. For large areas, outline the design in chalk; then copy the outline in paint before filling it in.
Sprayed Style
Spray paint may also be used to color or decorate burlap. Take the burlap outdoors or to a well-ventilated area, placing it upon scrap cardboard or a tarp. Shake the can for a minute, then spray the burlap while holding the can 12 to 18 inches from the material. Spray with slightly overlapping strokes, working with thin layers. To create interesting designs, place a shaped flat object such as a cardboard star or felt leaf atop the burlap; then spray on and around the object. Remove the object to reveal the design.