Tiger stripes add a playful, frisky touch to your DIY project, whether you paint them on a wooden box, a bag, an art canvas or a T-shirt. Similar to zebra stripes, tiger stripes are curved a bit more and go from wide to thin. A base color of orange allows your project to stand out as a tiger design, but any color may be used as the base, if you'd like a little more creative variation. Fabric paints allow you to turn just about any cloth or clothing into a funky tiger-print creation.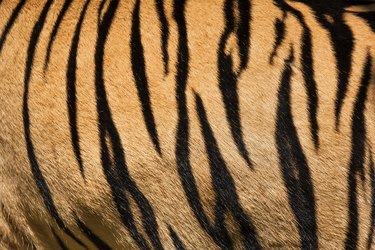 Things You'll Need
Newspaper

Paintbrush

Black Fabric Paint

Scrap Corrugated Cardboard (Optional)

Fine-Grit Sandpaper

Chalk Or Fabric Marker

Latex Or Acrylic Primer

Artist'S Brush

Tack Cloth Or Soft Rag

Spray-On Metal Or Plastic Primer (Optional)

Latex Or Acrylic Paint, Orange And Black

Spray-On Metal Or Plastic Orange Paint (Optional)
Step 1
Cover the work area with newspaper, setting the project piece atop the paper.
Step 2
Scuff the project surface slightly with a fine-grit sandpaper if the object is made of wood, metal or plastic; then wipe the dust away with a tack cloth or soft rag. This allows the piece to accept primer and paint more readily. If the object is fabric or is already the base coat color you desire, skip to Step 5.
Step 3
Apply a latex or acrylic primer over the project piece using a paintbrush. If the item is made from plastic or metal, use a plastic or metal spray primer instead. Hold the spray can 12 to 18 inches away and spray the project in a well-ventilated area, overlapping primed lines until the entire project is primed. Allow the primer to dry completely.
Step 4
Paint the project piece with orange latex or acrylic paint and a brush, or a spray-on orange plastic or metal paint, if the project is made of plastic or metal. Once the paint is dry, apply a second coat if the primer is still visible through the paint, allowing it to dry as well.
Step 5
Sketch tiger stripes on the painted project using chalk; on fabric, use a fabric marker. Look at a photo of an actual tiger for inspiration, noting the constant variation among stripes. Draw stripes wider near the top areas, narrower at the bottom, curving at times and never completely parallel.
Step 6
Fill in the tiger stripes with black paint using an artist's brush or with black fabric paint on a cloth project. If using fabric paint, draw the outline of the stripes using the narrow tip on the paint bottle, then fill in the stripes with black. If the fabric item is thin, such as a T-shirt, place a piece of corrugated cardboard inside the shirt or beneath the thin fabric to ensure the paint doesn't bleed through.
Tip
To create tiger stripes on fabric using a spray-on fabric paint, bunch up the fabric, accordion-style, then spray the tops of the folds. Unfold the item to reveal the dark stripes.
Warning
If using spray paint or spray primer, work only in a well-ventilated area, such as outdoors on a calm day, while wearing a dust mask. Paint away from other objects to ensure they don't get hit with overspray.