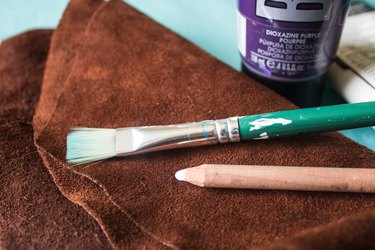 Unless suede is purchased unfinished directly from a leather vendor, it will usually have a protective coating that would prevent further dying. Even then, dying suede with any sort of elaborate design or pattern is difficult and messy. But a variety of painting techniques can be used to create designs, patterns and personalization of suede clothing.
General Tips
Before using any technique, clean and dry the suede. It is best to follow the recommended cleaning from the manufacturer. Otherwise, spray with water to remove dust and dirt and make sure it is dried properly. It is a good idea to try paint out on scrap fabric before using it. For suede, fabric paint is usually a good option, because it is flexible enough not to crack. Be comfortable painting the design before starting to paint the suede. Mistakes are generally not reversible without damaging the fabric.
Painting
Suede fabric can be painted just like paper or canvas with a few slight alterations. Instead of pencil or charcoal, white eyeliner can be used on suede to draw the design as a guide prior to painting. Eyeliner can be removed from the suede using a wet washcloth. With the basic sketch in place, the design can be painted onto the suede with fabric paint. Wait at least three days before wearing the item. If possible, be a bit more conservative with drying time for the paint, such as waiting a week before wearing.
Stenciling
Stenciling can be a useful tool for some more elaborate designs and symbols. Unlike painting normally, using a stencil can be done by those with more limited drawing and painting skills. Be sure the fabric is laid out flat and the stencil is properly placed. If the stencil is large enough to allow, it is usually a good idea to weigh it down to prevent it from sliding or for paint to go under the stencil. Acrylic paint pens or fabric paint both usually work quite well to fill in the stencil areas.
Splattering
Splattering can create interesting random patterns that work well for backgrounds. Mix about an equal part of water and paint together. The consistency should be creamy, such that it is not dripping off the brush but not so thick that it won't easily splatter when needed. Hold the brush over the suede with the thumb and middle finger. Tap the brush with the index finger to create splatter drops. If the paint starts to thicken to the point it won't splatter, add more water to the mix.