Things You'll Need
Tarp or plastic sheeting

Ruler or tape measure

Painter's tape

Latex paint or acrylic fabric paint

Paintbrushes or rollers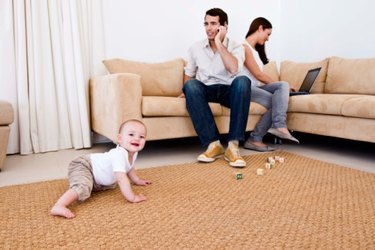 Synthetic rugs are made with polypropylene or acrylic yarn. Many also contain a mixture of olefin, nylon and polyester. These synthetic fibers are all woven together to create the look and feel of natural fibers. Synthetic rugs are desirable primarily for their durability. In fact, these rugs are often used in high-traffic areas such as porches or outdoor areas. While many come printed with colorful patterns, you can also purchase a plain synthetic rug and paint it yourself.
Step 1
Open windows or paint outdoors, as the fumes may be quite strong. Place a tarp or plastic under the rug to prevent paint from dripping on the floor below, especially if you will be painting near the edges of the rug.
Step 2
Outline your design on the rug using painter's tape. You may want to practice penciling in different designs on a piece of paper first. Use a ruler or tape measure to measure the distances between the lines in your pattern if you want a symmetrical design.
Step 3
Dip a small brush or roller into paint and begin painting inside the lines created by the painter's tape. Be careful not to drip paint on the areas of the rug that are to be left unpainted. Use acrylic fabric paint for softer synthetic rugs, as it dries to a more flexible finish. Latex paint can be used on flatter rugs.
Step 4
Let the rug air-dry for two or more hours. Slowly remove the tape when the paint is dry.