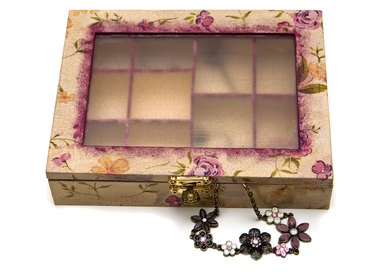 Brush Mod Podge over the back of the paper or fabric you're using in your favorite craft project, and it adheres the material to the piece. If you brush it on the front of the fabric or paper, it acts as a sealer while helping ensure the pieces stay put. Instead of settling for your decoupage project as-is, turn it into a multi-media piece by painting over some areas with acrylic craft paints.
Curing for Success
Both painted and decoupaged pieces require curing time before you use them or paint over them. Painted kitchen cabinets, for instance, must cure before their doors are put back on; otherwise, the paint from one surface may pull off and adhere to the other instead. Mod Podge works in a similar way; allow the decoupage medium to not only dry, but to cure for three days to a week before painting over it for best results. The more humid the air, the longer it takes both paint and decoupage medium to cure. Check the Mod Podge label for recommended curing times, as some formulas have longer curing times than others.
To Sand, or Not to Sand
While sanding the Mod Podge is not necessary before painting, it is an option if you'd like. Mod Podge may show brush strokes when dry if it is applied using a brush with thick bristles, or of the coat is thick. If you want the Mod Podge to be smoother than it is before you paint atop it, gently sand the area you wish to paint using #0000 or very fine steel wool. Wipe the area with a soft cloth; then paint it as desired.
Painting Over Mod Podge
Even though it's not a paint, Mod Podge is both water-based and acrylic, so it is quite compatible with acrylic paint. Make sure the Mod Podge is completely dry and cured before painting; then paint over any areas you like. For a funky effect, apply strips of low-tack painter's tape over your decoupaged project in a pattern such as stripes or chevrons. Paint between the tape strips; then peel the tape away once the paint is dry to the touch. Use fine lines of acrylic paint to outline illustrations, images and words on your decoupage project, or add your own doodles or designs for a layered effect.
Coloring Your Mod Podge
Create a glaze-like product by stirring a minuscule amount of acrylic paint into a bit of Mod Podge, using the tinted solution atop your dried decoupage project for illusions such as an underwater effect or beams of sunlight emanating behind clouds or between trees in a forest. Test the translucency of your Mod Podge and paint the mixture on white paper before applying it to your project to ensure it turns out as expected once dry. Mod Podge and paint may be layered over one another repeatedly to create complex decoupage, collage and mixed-media pieces.