Things You'll Need
Measuring tape

Fabric pencil

Sewing machine and thread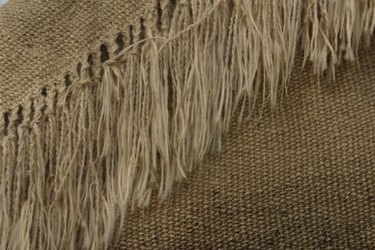 Burlap, a coarse fabric, has a loose weave that lends itself well to fringing. Fringed fabric doesn't require hemming, as the fringe replaces the hem with a decorative edge. Some preparation is necessary before making the fringe, or the burlap may continue to unravel beyond the intended fringe line. Use the fringed burlap to make decorative items such as table runners or place mats, or fringe burlap for a quick finish for utilitarian items such as gift bags and sacks.
Step 1
Measure up from the edge you intend to fringe, marking the burlap at the intended fringe length. For 1 inch fringe, measure 1 inch in from the edge.
Step 2
Using a fabric pencil, draw a line parallel to the edge of the fabric at the measured location.
Step 3
Insert the sewing machine needle into the burlap at the beginning of the marked line. Sew along the line, back-stitching at the beginning and end so the thread doesn't pull out of the burlap.
Step 4
Pull the horizontal threads from the burlap, beginning at the end and continuing to the machine stitching. The stitching prevents the fringe from unraveling farther than desired.
Tip
Shorter fringe is less likely to tangle than longer fringe.
Use a wide-tooth comb or your fingers to straighten the fringe once it's complete.