Things You'll Need
Large bucket

Hot water

Ammonia

Dishwasher detergent powder

Mop

Scrub brush

Old towels

White vinegar

Cream of tartar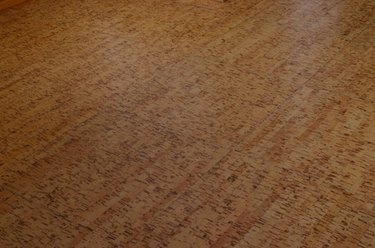 An acrylic floor finish is the best way to protect vinyl and linoleum floors from scuffs and stains. In addition, this finish is the key to achieving that glossy, high-shine look on your floors. After several years, however, the finish loses its shine, starts to look dull, and can even turn the flooring yellow. To keep your floor looking sparkling clean, you need to remove old acrylic floor finish before refinishing the floor.
Vinyl Flooring
Step 1
Combine 2 gallons hot water, 2 cups ammonia, and 1 cup powdered dishwasher detergent. Mix well. Be sure to use dishwasher detergent without bleach. Mixing ammonia and any bleach product will produce toxic fumes.
Step 2
Wet your mop with the ammonia solution, and mop the floor. Rewet the mop as needed to make sure the floor gets adequately covered. For areas of the floor where the mop is not removing the finish, wet a scrub brush with the ammonia solution, and scrub those stubborn areas.
Step 3
Dry the floor using old towels. Rinse the mop with hot water to remove the ammonia solution. Wet the mop again with plain hot water, and rinse the floor by mopping it again. Dry the floor again using dry towels.
Linoleum Flooring
Step 1
Mix 1 gallon white vinegar with 1 cup cream of tartar until the cream of tartar is dissolved. Wet a scrub brush in the vinegar solution, and scrub the entire floor. Pay particular attention to areas where the acrylic floor finish has yellowed with age.
Step 2
Wipe up the vinegar solution using dry towels. Wet your mop with hot water, and rinse the floor by mopping the areas you scrubbed.
Step 3
Use more dry towels to wipe up the water.