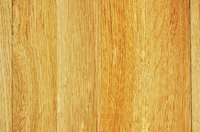 Bona carries a large selection of cleaning products, including Hardwood Floor Refresher. This cleaner is designed to clean and restore the overall look of your hardwood floors, but it sometimes leaves a cloudy film that actually makes your floors look worse. Instead of paying for yet another ineffective floor cleaning product, use a basic household solution to remove the film without harming your hardwood floors.
Things You'll Need
Pour 1 gallon warm water and 1 cup white vinegar into a cleaning bucket.
Dip a mop into the bucket and squeeze it out.
Wipe the vinegar mixture over your hardwood floors, wiping with the wood grain. Continue until you have cleaned the entire area of floor affected by the Bona cleaner, and let the floors air dry.
Repeat as needed if any film remains after the floor has dried.