Things You'll Need
Spray bottle

White vinegar

Water

Cleaning rags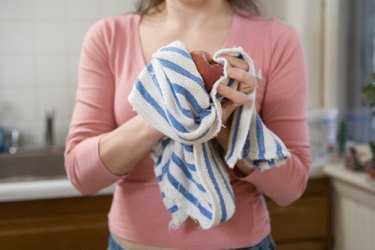 Acrylic is a common building material used in shower areas. When water with a high mineral content splashes onto the surrounding acrylic surface, you must use something to remove the buildup. Otherwise, you'll be left with a cloudy haze that makes the surface look dirty and uncared for. A homemade cleaning solution with a minimal acidic content will safely remove all the hard water stains without harming the acrylic surface in any way.
Step 1
Fill a spray bottle with white vinegar.
Step 2
Spray the white vinegar over the acrylic surface and scrub it with a wet cleaning rag. Continue until you have removed all of the hard water spots.
Step 3
Dry your surface with a clean rag. Also remember to always dry the acrylic as soon as you notice that water has splashed onto the surface, as this will minimize the buildup of hard water stains.