Things You'll Need
Vacuum cleaner with brush

Quality broom

Rubber gloves

Face mask

Ammonia

Water

Absorbent towel

Low-gloss floor sealant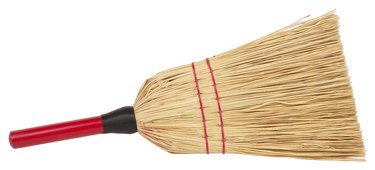 Vinyl flooring is easy to clean, maintain and care for when you follow the proper manufacturer's recommendations. Vinyl floors are sealed by the manufacturer with a low-gloss, no-wax sealant that gives it shine and luster. After two years, this glow fades even if you use a proper cleaning regimen on your floors. You can restore vinyl flooring by stripping off old buildup and applying a manufacturer-recommended sealant.
Step 1
Remove any surface dirt from your vinyl flooring with a vacuum cleaner equipped with a soft brush attachment; if one is unavailable, use a good quality fine-bristled broom. Get into corners, nooks and crannies to remove any hidden surface dirt.
Step 2
Open your windows to properly ventilate the area in your kitchen or bathroom. Wear rubber gloves and a protective face mask before cleaning with ammonia.
Step 3
Get rid of surface film on your floor with a well-wrung mop using a mixture of lukewarm water and 1 cup of ammonia. Use a stronger ammonia solution for heavier dirt and wax buildup or wash the floor several times with the lighter solution to remove grime.
Step 4
Use a soft-bristled scrub brush to remove tough, embedded surface film left over from waxy floor cleaners, dulling soaps and trapped dirt. Once sealed, vinyl flooring should always use a water-based, no-wax floor cleaner that is free from waxes, polishes and detergents.
Step 5
Rinse mop the floor with plain water and dry it with an absorbent towel to remove excess liquid. Allow your vinyl flooring to dry thoroughly.
Step 6
Seal your vinyl flooring with a manufacturer-recommended, low-gloss floor sealant and mop. These sealants only need to be applied once every two years if you properly clean your vinyl floor with recommended cleansers each time you clean.
Tip
Do not use rubber-backed floor mats on your vinyl tile. They will yellow and dull the flooring.
Never use mop and glow-type products or any type of wax on your vinyl floor—it causes dulling and will seal in the dirt.
Warning
Avoid abrasive cleansers and scrub pads. They can permanently damage your vinyl flooring. Clean up tough messes with a vinyl scrubber.