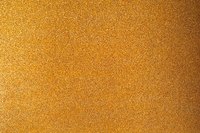 If you would like to finish your vinyl paneling with a coat of paint, you will need to employ a specific preparation strategy or you will not be able to achieve adequate paint adhesion. Because vinyl is a poor candidate for paint, you will need to abrade the paneling with sandpaper, prior to application. In addition, you will need to coat the vinyl paneling with a particular type of paint, depending on its location, or you may end up with a finish that will eventually fail.
Things You'll Need
Heavy-duty fabric drop cloth
Broom
Palm sander
120-grit sandpaper
Tack cloth
Blue painter's tape
Latex bonding primer
5-gallon bucket
Roller frame
Nap roller cover
Extension pole
3- to 4-inch latex paintbrush
Satin latex paint
Acrylic latex primer
Acrylic latex paint
Soap coarse brush
Open your doors and windows to provide ventilation.
Protect the floors beneath the vinyl paneling by covering them with fabric drop cloths.
Dust the vinyl paneling with a broom.
Enhance adhesion by scouring the vinyl paneling with sandpaper.
Wipe the sanded paneling with a tack cloth.
Apply painter's tape to portions of the paneling you don't want painted.
Coat the sanded vinyl paneling with latex primer, using a roller. Smooth the wet primer, using a paintbrush manufactured for use with latex paints. Wait 2 hours for the primed paneling to dry.
Wash all of your painting tools with water.
Coat the primed vinyl paneling with satin latex paint. Apply paint to the vinyl just as you did the primer. Wait 2 hours for the painted paneling to dry.