Things You'll Need
Quilted fabric

5-gallon water cooler

Sewing tape measure

Newspaper

Scissors

Straight pins

Thread

Sewing machine

Iron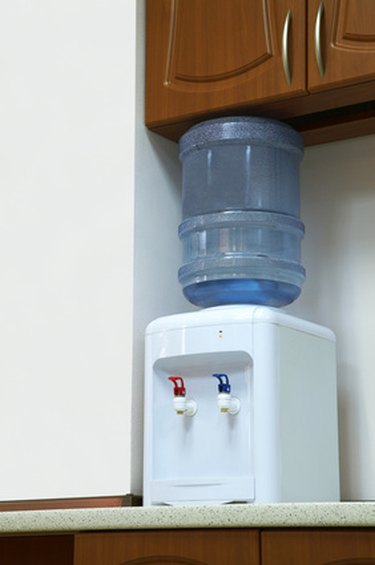 A cover for a 5-gallon water cooler provides both a decorative exterior and an insulation for the cooler contents. A quilted fabric provides the best insulating properties. Select a material that will hold up well, such as a denim or twill. Use cotton or cotton/polyester fabrics for decorative purposes only. Allow yourself about 2 hours to complete the cover, including measuring, sewing and pressing. Adding decorations such as lace, ribbon or applique will take additional time.
Step 1
Measure the height of the water cooler and the circumference of the largest area. Add 2 inches to each dimension. Cut a rectangular piece of quilted fabric to the dimensions and set aside. For example, if the cooler is 18 inches high with a circumference of 36 inches, cut a piece of rectangular fabric 20 by 38 inches.
Step 2
Place the bottom of the water cooler on a piece of newspaper. Trace around the bottom circle. Draw another circle around this circle, 1 inch larger all the way around. Cut out the paper pattern.
Step 3
Place the paper pattern on the quilted fabric and pin into place. Cut out the circle. Set it aside.
Step 4
Fold the rectangular piece of quilted fabric together so the front side of the fabric is inside the fold. Match the raw edges of the fabric together, and sew a half-inch seam along the length. The sewn edge will be the height of the cover. Press the seam open with the iron. The 20 by 38-inch piece of fabric will now be folded to form a 20 by 19-inch cylinder.
Step 5
Pin the circle of fabric into one end of the cylinder. Make sure the front side of the fabric is facing the inside of the cylinder.
Step 6
Sew a half-inch seam around the pinned edge. Clip the seam every half inch. Clipping the seam means to make a straight cut from the raw edge of the seam to 1/16 inch away from the sewing. This allows the seam to spread around the circle shape and prevents puckering. Press the seam towards the cylinder.
Step 7
Turn the raw edge up 1/2-inch to begin the hem. Pin the fabric into place. Press the fold. Remove the pins.
Step 8
Turn the 1/2-inch pressed hem up 1 inch. Pin the fabric into place. Sew the hem into place. Remove the pins, and press the bottom edge.
Step 9
Revers the water cooler cover so the seams are on the inside of the cover. Place the cover on the cooler.